Beekeepers benefit a lot from Paulownia honey
Technicians of the European project LIFE + Ecoglauca Ergon, a research project that aims to develop new energy crops for use in biomass, erosion control in areas of very low productivity and abandoned, rural development and the development of crops for the capture of greenhouse gases, have discovered by chance the usefulness of a species native to the Asian continent, the Paulownia tree, a tree that in addition to producing a large amount of biomass, is a melliferous tree, ie produces a large amount of nectar and pollen, which bees can use to produce their honey.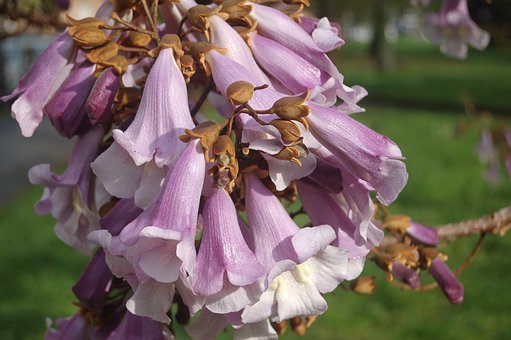 Paulownia honey is a honey not listed in Europe, but has been consumed in China and Australia for millennia.
A technician from this study discovered, while making his routine inventory of the Paulownias crop in Navarrés, one of the seven municipalities in the Valencia region where this European research project is being carried out, that many bees were going to pollinate this tree in search of its pollen and nectar.
After observing these facts, the technician asked a beekeeper from Navarrés to place a beehive in order to observe the behaviour of the bees in the hives with the new plantations of paulownia. They discovered what they were already imagining, that the flowers of this tree were very much desired by the bees. The honey produced was then analysed and it was confirmed that the bees used pollen and nectar from the trees of the paulownia to make their honey.
Beekeepers also benefit greatly from this new crop, as the flowers of the paulownia are very melliferous, i.e. they produce a large amount of nectar and pollen, sources for the production of honey. The paulownia honey is of high quality.
Another of the benefits of this tree is that, as it is not a plantation for the purpose of harvesting the fruit, no phytosanitary measures are applied during flowering, allowing the bees to be respected and not poisoned.
Characteristics of paulownia honey:
Palownian honey has a very remarkable taste, it is a light and very aromatic honey. Its color and consistency is similar to acacia honey.
The blossoms of the Paulownia tree are highly "nectariferous" creating a much-needed source of nectar for pollinating insects including honeybees. It is estimated that one acre of Paulownia tree blossoms can generate enough nectar to produce 100 jars of honey per year.
Sources:
The newspaper Las Provincias: http://www.lasprovincias.es/