Advantage Characteristics Of Shan Tong
---
Shan Tong is the newest and best fine Paulownia variety in China, which takes on the following advantages compared with other Paulownia species: fast growing rate, strong resistance to disease and insect pest, strong resistance to drought and cold, large timber output, good material quality, large areas of land saving, wide range of adaptability, strong renewal ability and etc.
---
Rapid Growth Rate
According to the comparison test, in the forests having grown under the same site conditions and management measures for seven years, average individual volume of Shan Tong is larger than No. 1 Yuza (famous artificial-crossing species of the old generation) for 63.78%. In semi-arid areas of western China, diameter of the Shan Tong having grown for seven years could reach to 35 centimeter. Its growth rate especially in the early period is at the domestic leading level. Rapid growth rate will shorten the cutting period and also increase timber yield.
Strong Resistance To Disease And Insect Pest
Resistance to disease and insect pest is an important sign for fast-growing and high-yield forest in the production of Paulownia. Results of field survey on the natural infection show that infection index of the witches' broom disease of Shan Tong having grown for seven years is dramatically lower than other species of Paulownia. Defoliator, woodworm and underground insect can seriously affect the normal growth of Paulownia. Results of relevant comparison survey show that Shan Tong present extremely strong ability to resist insect pests which is much stronger than other types of Paulownia.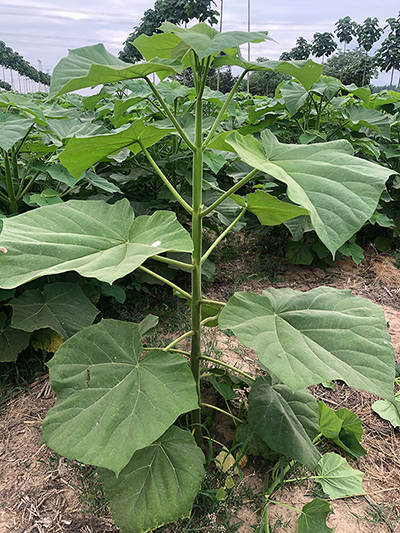 ---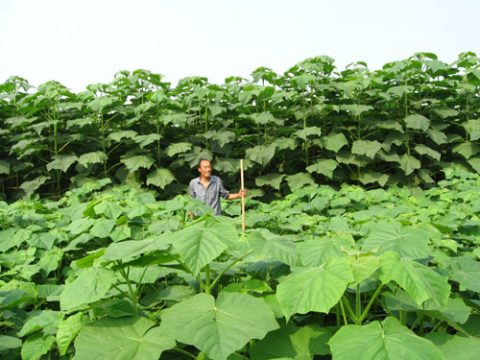 Strong Resistance To Drought And Cold
Tolerance to natural conditions is another important indicator in the selective breeding for fine Paulownia varieties. Paulownia species with strong drought resistance and cold resistance enjoy stronger ability to resist natural disasters, broader growth scope and higher survival rate, survival rate and yield. According to the experimental observation, 568 pieces four-year-old individual plants of Shan Tong along the dam of Weihe River in Weinan, China grew in normal under the intense heat in summer when the highest temperature reached to +42℃ and even the lowest temperature also reached to +36℃ with no rainfall for 63 days. On the basis of test, it could resist the lowest temperature of -20℃.
Larger Individual Volume
Trunk of Shan Tong is straight, tall, plump and with good quality. In light of different site conditions and management measures, height of Paulownia trunk could reach to 6 – 9 meters and DBH could reach to 4 – 10 cm. In China, individual volume of Shan Tong having grown for seven years could reach to 0.35 – 0.6 m³, which was 42% – 96% larger than other Paulownia species.
---
Excellent Material Quality
Material quality of the Paulownia timber plays a decisive role to the utilization value and economic benefit. There is a wide gap between values of Paulownia timber in different material qualities. The experimental results show that mechanic properties and physical properties of Shan Tong timber are all better than No.1 Yuza Paulownia which has reached and exceeded the international standard on quality Paulownia timber. Larger quantity of quality timber could be gained in a short time and it is a favorable Paulownia species for industrial purpose.
More Land Saved
According to development characteristics of the crown, growth-development patterns of the crown is different based on different Paulownia variety. Crowns of different Paulownia species are divided into two categories: narrow & middle crown and wide crown. Crown width of the narrow crown type is 40% less than wide crown type. Shan Tong is the narrow & middle crown type which will save more than 40% of land if selected for afforestation comparing with wide crown type Paulownia.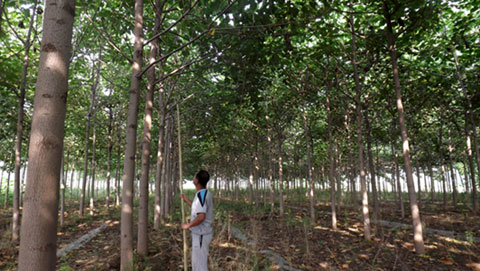 ---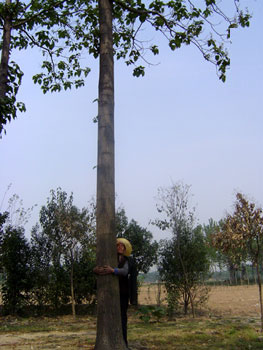 Broader Growth Scope
P.fortunei(Seem)Hemsl and P.tomentosa(Thunb.) Steud widely distribute in China's three major Paulownia cultivation areas in the form of wild growing or artificial planting with abilities to adapt different natural environment. Shan Tong is the filial generation of P.fortunei(Seem)Hemsl and P.tomentosa(Thunb.) Steud, so it inherited good genes of the both that with even stronger adapting abilities. Many years of practice indicated that Shan Tong could grow in north part and south part of China where suitable for planting Paulownia, as well as similar areas in foreign countries.
In recent years, the United States, Germany, Bulgaria, Iran, Nepal, Vietnam, Burma, Laos, Thailand, Indonesia Uganda and other countries have successfully introduced this fine variety. Shan Tong could grow in normal under different climate and soil conditions benefited by its broad adaptability, by which will save huge amount of manpower and physical resources for afforestation, reduce total cost of the afforestation, further raise the investment return and realize the fast-growing and high yield of Paulownia.
Strong Regeneration Ability
Stumps of Shan Tong remained in the afforestation land after cutting for timber will germinate into sapling with the germination rate of 100%. In general, afforestation by Shan Tong with one time will harvest quality timber more than three times.