The Supply Of Seedlings Of Shan Tong
---
We are a professional organization in China engaged in research of Paulownia.
Our hybrids are non-invasive and cannot reproduce by seed flight.
Reproduction is only possible a-sexually.This has been proven.
The declaration of REVOKING the Exclusive Purchaser in EUROPE
Weinan Research & Promotion Center for High Resistance Paulownia would revoke the Exclusive Purchaser in EUROPE from June 1st 2015. Velboy Ltd. is not the Exclusive Purchaser of Weinan Research & Promotion Center for High Resistance Paulownia any more. Meanwhile, the authorized certificate for Velboy Ltd. is invalid. Please contact with our institution immediately if you want to purchase Shan Tong seedlings.
Email: paulownia@vip.126.com
---
Strong seedling with tall trunk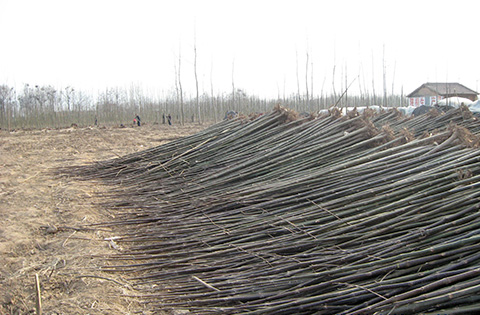 Strong seedling is the afforestation seedling cultivated by 1st -3rd generation Paulownia seminal root with the use of special methods. Its growth period is 6 months. whose trunk is 3-5m and above ground diameter is 4-7cm, which is suitable for afforestation in city and on road as well as builds Paulownia artificial forest on the plain.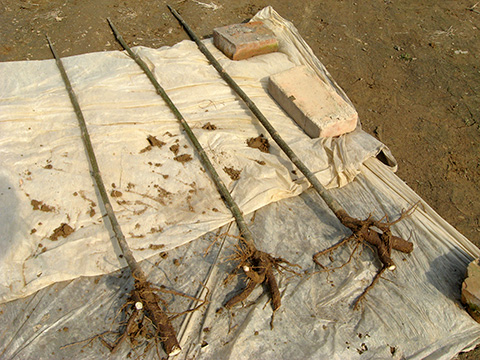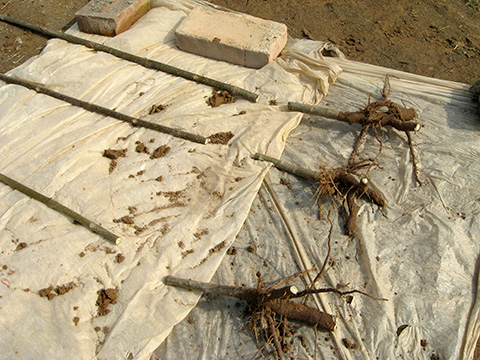 Advantages of this kind of seedling include: high quality of afforestation, neat forest form of the sapling forest, high rate of growing into a forest in just one time and lower production cost after the afforestation. Disadvantages include: higher cost on seedling and transportation, slow growth in the first year after planting, not suitable for areas with poor site conditions.
---
How to purchase the seedling
Shipping time
In accordance with harvest seasons for seedling and fecund root, annual shipping time is fixed in November to December of the current year and March to April of the next year.
Order in advance
Each year, we produce seedlings and fecund roots on the basis of pre-production order quantity. Besides, we'll produce extra seedlings and fecund roots out of the plan to meet the demands of customers purchasing for the first time. Quantity of such seedlings and fecund roots is limited, so you have to order in advance. Generally, orders shall be made before September of the current year if you want to get the quantity in need. Goods are subject to availability. The Order Contract shall be signed (through scanned copies of e-mail) along with payment of deposit (30% of the total amount of payment).
Paulownia import license
An import license is required for some countries to purchase paulownia. In order to successfully pass through the customs clearance in their own countries, buyers of such countries shall send original copy and scanned copy of the paulownia import license to us before shipment.
Transportation mode
In order to ensure the safety of the goods and to minimize transportation costs, it's beater to use air transport for Paulownia seedlings and afforestation seminal root.
Packing of goods
Plants are living things. In the transportation process, seedlings and container fecund roots of paulownia also need air. In order to provide cargo with relatively good environment and in light of packing requirements for different transportation modes, paper box with air vents shall be used for packing of the aerial transport and woven bag with good air permeability shall be used for packing of ship transport.
Cargo shipment
Due to requirements of customs and paulownia itself, freshly picked seedlings and fecund roots could not ship out directly. They could be packed for shipment only by the time when having passed a series of technical disposal procedure. We'll not start such procedures until having received all payments for goods. Therefore, please make the remittance as soon as possible when receiving our remittance note, by which will ensure timely goods delivering and security of cargo shipment.
Volume and weight of the cargo
Volume and weight of the seedling and container fecund root change along with size of their specification. Before the shipment, we'll inform buyers immediately right after obtaining the exact data on volume and weight. When receiving our notice, buyers shall pay the total amount of transportation expenses to us as soon as possible. We'll make immediate delivery right after receiving the scanned copy of bank transfer order from buyers. When the cargo shipped out, we'll inform the consignee at once and send relevant documents to the consignee by international express.

Here are a set of data for reference: For 1,000 seedlings in medium specification, the volume is about 0.4m³ and the weight is about 80 kg; For 1000 container fecund roots, the volume is about 0.025 m³ and the weight is about 10 kg.
Price and transportation cost
There are different prices for various paulownia products and quantities. For different countries, the transportation costs will be different as well. Please send us e-mail for details of price and transportation cost.
Methods of remittance
Settlement shall be done by U.S. dollar or other international common currency in the modes of telegraphic transfer.
How to recognize the pure Shan Tong saplings
All of the Shan Tong seedlings would be processed and maintained freshness strictly before delivering. The superficial color of Shan Tong seedlings, which after a series of procedures, is red. This professional postharvest technique owned by Weinan Research & Promotion Center for High Resistance Paulownia exclusively. It's very difficult for people to imitate this professional postharvest technique because of its complicated and advanced technology. To be clearly, pure Shan Tong is the one which color in red, maintain fresh and no affected by bacteria.