Moving Guqin and Xiao Rooted in Ancient Chinese Traditions
Cheng Yu and Dennis Kwong Thye Lee – Longyin – The Dragon Chants – 1930s' silk-stringed guqin with xiao flute (ARC Music, 2019)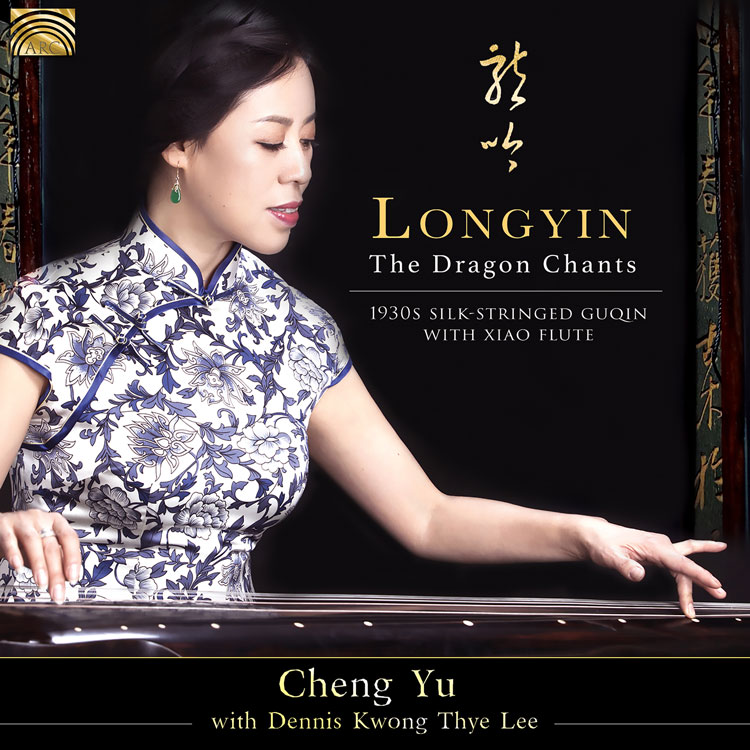 The Dragon Chants – 1930s' silk-stringed guqin with xiao flute is a fascinating project that brings together Chinese multi-instrumentalist Cheng Yu and Malaysian flutist Dennis Kwong Thye Lee.
The album features a mesmerizing set of ancient instrumental pieces featuring evocative solo and duo performances.
On this occasion, London-based Cheng Yu plays the ancient guqin, an unfretted zither with seven strings. The guqin used by Cheng Yu has historical significance. It was owned and played by both Robert Hans Van Gulik (1901-1967) and Laurence Picken (1909-2007), two expert 20th century sinologists. Van Gulik named the guqin 'Longyin' ('The Dragon Chants'). This guqin uses original silk strings from the 1930s. When Cheng Yu was doing her PhD research on Ancient Xi'an Drum Music, she had the opportunity to visit and study with Picken. When Picken died, he bequeathed the Longyin to his student Dr Stephen Jones. In 2013, Stephen gave this special guqin to Cheng Yu.
The Longyin was made in 1936 by Li Shaotang, under the supervision of Xu Yuanbai, using ancient wood from Bianzhou. The upper board is made of paulownia wood and the bottom board is probably catalpa. It is longer than a standard guqin and the shoulders are slightly broader. It has a spacious resonance and is louder than most traditional silk string guqins.
The other artist on the album is Dennis Kwong Thye Lee. He is a virtuoso flute from Malaysia, currently living in London. He specializes in the xiao flute. He studied the xiao flute under Hu Ruijun, Zhang Weiliang and Luo Shoucheng. Dennis Kwong Thye Lee started his musical career as the principal xiao flute and guzheng (bridged zither) player at the Zhuan Yi Chinese Orchestra. Currently, Dennis Kwong Thye Lee is a member of the London Youlan Qin Society and performs regularly with the UK Chinese Music Ensemble.