Uzbek woman applies Chinese poverty reduction experience by growing paulownia trees nationwide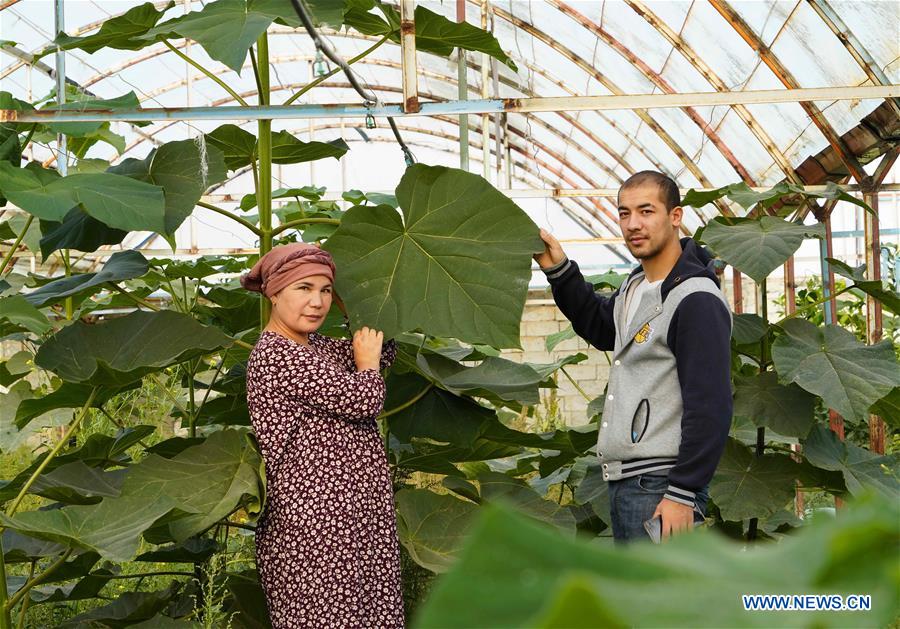 Sojida Jabborova, once a dentist from Samarkand region in central Uzbekistan, has become a successful entrepreneur by planting paulownia trees with the help of her Chinese partners.
Now she is ready to expand her experience nationwide, convinced that this world's fastest growing multipurpose tree can become an income source for many families in her country, thus lifting many rural households out of poverty.
Poverty alleviation, which used to be an untouched topic in Uzbekistan for many years, has made one of the government's priorities when Uzbek President Shavkat Mirziyoyev took office in 2016 and launched a wide range of reforms.
Noting around 4 million to 5 million people, or 12 percent to 15 percent of the Uzbek population, are still living in poverty, Mirziyoyev, in his message to the country's parliament this January, instructed the government to study and apply the Chinese experience in reducing and overcoming poverty.
Earlier this year, the Uzbek Ministry of Economic Development and Poverty Reduction was tasked with providing aid to the most vulnerable people and developing regional programs to eradicate poverty, create jobs and help people earn more income.
That's exactly what Jabborova, who currently runs an agricultural family enterprise, has been doing for the past two years after discovering the environmental and economic benefits of the paulownia trees.
"I first contacted a Chinese company in Shandong province, and we have established a partnership to grow paulownia trees, to process and rationalize use of all types of its products based on Chinese agro-technology," she said.
In 2018, she went to China and signed an agreement with her Chinese partners who delivered paulownia seeds and seedlings to Uzbekistan. Then she started growing them in eight hectares of land provided by the Samarkand regional administration.
She has since held many presentations on planting paulownia trees in almost all regions of the country. As a result, the seedlings of paulownia trees are now grown in multiple experimental fields in Fergana, Bukhara, Samarkand and Tashkent regions.
Jabborova is pleased to see paulownia trees enable many families to improve their livelihood.
"The tree improves soil fertility, its leaves used as a feed for livestock, its flowers full of nectar for honeybees to feed on; and furthermore, durable paulownia wood is widely used to make ceilings, doors, shelves, tables and chairs," she said.
The dentist-turned-entrepreneur believes that paulownia trees will become one of the most effective factors in poverty reduction in the Central Asian country.
Sources: