Afforestation by carbon sinks is a big business with broad prospects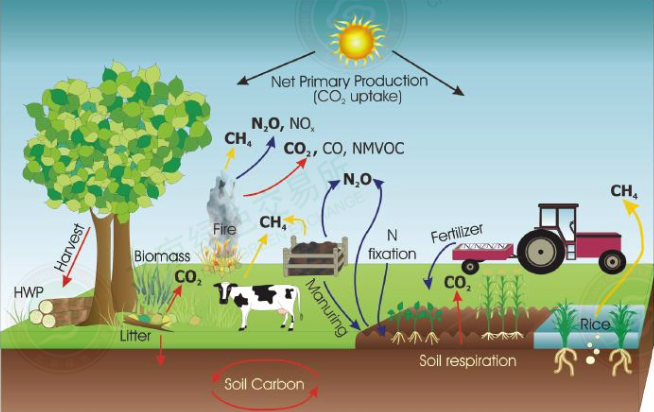 Carbon dioxide is the most commonly produced greenhouse gas. Carbon sequestration is the process of capturing and storing atmospheric carbon dioxide. It is one method of reducing the amount of carbon dioxide in the atmosphere with the goal of reducing global climate change.
Biologic carbon sequestration refers to storage of atmospheric carbon in vegetation, soils, woody products, and aquatic environments. For example, by encouraging the growth of plants—particularly larger plants like trees—advocates of biologic sequestration hope to help remove CO2 from the atmosphere.
Forests, farmlands, grasslands, deserts, wetlands, and marine ecosystems are recognized as natural-based solutions to climate change. As the main body of the terrestrial ecosystem, forests contain more than 60,000 different tree species and are the largest carbon pool on the planet.
Generally speaking, tree species, tree age, temperature zone, forestry management quality, etc. all affect the carbon sink of the forest.
In terms of tree species, broad-leaved tree species have more carbon sinks. Leaves are the lungs of the tree, absorbing carbon from the air for photosynthesis.
Studies have shown that paulownia is one of the most effective tree species for carbon sequestration. One acre of Paulownia trees can sequester between 15-30 metric tons of carbon per acre per year over a 10 year growing cycle.
The policy of increasing forest area by economic means has been implemented in many countries, and the most common one is the implementation of forestry trading. This means that companies under pressure to reduce carbon do not need to plant and afforest themselves and purchase carbon sinks to achieve carbon reduction. It also means that organizations and individuals who plant afforestation and maintain forest systems can benefit from the sale of carbon sinks.
On May 19, 2021, the UK's national carbon trading market was officially "launched", and the first carbon allowance license auction was launched on the same day. This marks that the UK has completely left the EU carbon emissions trading market and will fully operate its own carbon emissions trading system in the future.
It is reported that any individuals and institutions with no bad records can open an account in the British National Carbon Allowance Register and participate in allowance auctions and secondary market transactions. In the first auction on May 19, the UK carbon price rose to 50.23 pounds/ton, and finally closed at 45.75 pounds/ton. On that day, 14 bidders bought a total of more than 6 million carbon allowances, with an average transaction price of £43.99/ton.
Since the beginning of this year, the EU carbon price has risen by more than 70%, reaching a high of 56.90 euros per ton on May 14. When the UK left the European Union five months ago, the EU carbon price was only about 30 euros per ton.