Intercropping Paulownia with other plants can increase production efficiency
Paulownia trees intercrop well with many other plants, providing them with natural protection from the elements.
In a tea farm in Zhejiang Province, China, in order to explore ways to improve the natural quality of tea, a trial of intercropping between tea trees and Paulownia was carried out, and good results were achieved.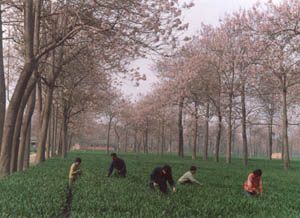 This tea farm planted 35 acres of tea in the hills and mountains, among which 3.5 acres were selected for the experiment of intercropping Paulownia with flowers. Paulownia is planted with a row spacing of 3 meters and a plant spacing of 4 meters. Two rows of tea trees are planted between Paulownia rows. The row spacing of tea trees is 1 to 2 meters. There are Paulownia trees between the two rows of tea trees. The fertilization, pruning, and pest control measures for the individual tea garden and the intercropping Paulownia tea garden are basically the same.
The results of the experiment found that the Paulownia intercropping forest has a great impact on the poor quality of tea. The content of tea biochemical components, such as amino acids, tea polyphenols, and water extracts, has increased significantly. The increase in the quality of fresh leaves of tea has brought about a 15% increase in value. In addition, Paulownia intercropped tea gardens each year have a large number of deciduous leaves, forming a thick layer of humus, which also has a positive effect on improving the soil structure.
In some countries, Paulownia can be intercropped with coffee, cocoa, plantain, corn and many other crops. The large leaves and rapid growth of the trees provides shade to the companion plants.
The deep root system of Paulownia trees means they don't compete with the other plants. It's a perfect partnership.