How to reduce planting cost of Paulownia commercial forest?
A lot of factors have effect on planting cost of paulownia commercial forest, largely consisting of natural environmental factors, means of production and afforestation techniques for Paulownia.
Climate, soil, site conditions and other factors in the natural environment can deeply impact the planting cost of Paulownia commercial forest. For example, in areas under warm climate, abundant rainfall, long time of sunshine, fertile soil and extended growing season, planting cost of Paulownia commercial forest is much lower than the one in areas under cold climate, drought, short time of sunshine, barren soil and short growing season.
Means of production including land resources, agricultural materials and labor will directly affect the planting cost of Paulownia commercial forest. For example, in countries and regions under higher costs on production materials and labor, planting cost of Paulownia commercial forest will be higher than those under lower relevant costs.
In order to reduce the planting cost of paulownia artificial forest and also let Paulownia trees grow in rapid, better and high-yield manners, we have studied and summarized many good methods on cultivation through ceaseless practice, grope and discovery during long term of planting activities for Paulownia. Meanwhile, newer and better methods on cultivation will continue to emerge in the long-drawn process of Paulownia afforestation, which will soon replace those old planting methods, then be applied in a large scale, and finally form advanced, mature and professional techniques for Paulownia afforestation.
Advanced, mature and professional degree of techniques for Paulownia afforestation plays a critical role in reducing plantation cost which will significantly affect the cost of planting for paulownia commercial forest. For example, when paulownia trees grow up into a wood where a small forest climate has formed, temperature, humidity and sunlight index inside the wood will be significantly different from those outside the wood. Such an environment is very favorable for Paulownia tree's growth. Resistance of Paulownia trees against natural factors has been greatly improved thereby. Investment on cultivation will be very small in this period.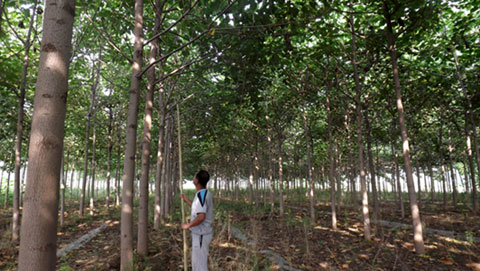 However, from beginning of afforestation to forest establishment when forest climate favorable for forest growth hasn't been formed by Paulownia saplings, paulownia trees will be subjected to influence of external environmental factors including climate, soil, vegetation, disease, insect, damage caused by bird, animal, human and livestock. This period is not only requiring for tending techniques at higher levels and high intensity of work, but also the largest amount of investment in the whole process of afforestation.
In order to let Paulownia trees grow in rapid, better and high-yield manners and reduce the production inputs during this period, we must make the saplings grow into forest as early as possible. The earlier saplings growing into forest, the less investment will be demanded. Planting density designed in professional manners for planning on Paulownia commercial forest is an important technical measure for paulownia saplings to grow into forest as early as possible, which will help us obtain maximum economic benefits out of minimum investment. And yet, planting density designed in nonprofessional, non-sophisticated and non-mature manners will bring about the exact converse results.
Although it is difficult to change the natural environment and to reduce costs on land resources, agricultural materials and labor, professional and mature techniques on cultivation design, afforestation and tending management will help us dramatically cut down planting cost for Paulownia commercial forest and substantially balance out high cost resulted from expensive means of production.
For example, climate in the natural world differs in thousands of ways. Different climate will provide paulownia with different living conditions, which serves as a fact hard to be changed. To put afforestation into practice according to actual conditions of the planting site through professional design for Paulownia commercial forest, correct selection for Paulownia species suitable for growing in different types of climate, and adoption of professional and mature techniques for Paulownia afforestation will minimize lots of blind investment, thereby significantly reducing the plantation cost for paulownia commercial forest.
Another example, Paulownia is very sensitive to soil nutrients. Content of soil nutrients acts a key factor affecting the growth of Paulownia. In different growth stages, paulownia will need fertilizer with different features, different fertilizing times and fertilization methods. Studies have shown that growth increment of Paulownia during a year of growing process under correct fertilizing plan is 80% – 160% larger than those growing in the same plot of land, whose ROI rate is very significant. Growth increment of Paulownia under wrong fertilizer formulations, wrong fertilizer application time or wrong fertilizing methods is 60% – 120% smaller than those under correct fertilizing plan.
Practice has proved that wrong fertilizing plan will not bring artificial fertilization into full play, but also cause damage to Paulownia due to excessive application as well, which will increase 1-2 times of costs on fertilizer and labor. To design professional formulations and fertilizing plan based on specialized test for soil nutrients before afforestation, under which elements absent from the soil can be complemented and nutrients can be offered in time when needed, will not only promote growth increment of the Paulownia, effectively shorten the time for harvest cutting, but also avoid blind fertilization resulted from mistakes on fertilizer formulation, fertilizing method and application time, thereby leading to unnecessary wastes resulted by repeated use of fertilizers and labor, which will minimum the planting costs for paulownia commercial forest.
If natural factors and means of production impacting plantation cost of Paulownia commercial forest serve as facts difficult to be changed, advanced, mature and professional techniques on Paulownia afforestation acts as the only way to effectively reduce planting cost of Paulownia commercial forest.