Afforestation characteristics of the wild-type and semi-wild-type
From the point of view of Paulownia growth habit, wild-type and semi-wild-type of Paulownia belong to natural type of Paulownia whose growth gene is benefited with pronounced natural attributes.
Compared with the artificial-crossing type, such types of Paulownia are hard to be artificially planted with characteristics of larger crown, short trunk, poor growth, high production cost and poor economic return.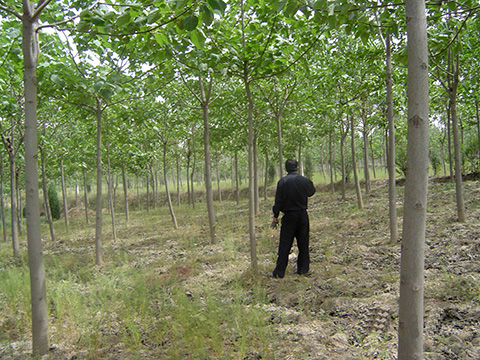 They all have a preference for scattered growth as individual plants when they will present their respective growth preponderance, while if planted in groups in artificial manners, their growth preponderance will be lessened representing as obvious growth difference between individual plant, overall poor growth, seriously damaged by disease and insect and poor resistance for adverse natural conditions. Even by huge amount of artificial input, significant improvement will be difficult to get.
Their growth scope is narrow. They have their own growing conditions. Climate, temperature, water content, soil and elevation greatly influence their growth.
Once losing their own growing conditions, they will be affected on their normal growth and even to die. Therefore, it will be difficult to achieve the anticipated purpose if selecting wild-type and semi-wild-type Paulownia to build artificial commodity forests.