Afforestation characteristics of the old generation of artificial-crossing-type
In 1970s to 1980s, China selectively bred a host of fine varieties in the artificial-crossing-type. Until now, we have got more than 20 famous Paulownia species of the artificial-crossing-type. They are suitable for group plantation based on characters of rapid growth, broad growth scope, strong resistance against natural environment, high-quality of timber and large quantity of output.
These species of Paulownia have not only overcome the disadvantage that wild-type Paulownia species are hard to be artificially planted in groups, but also remarkably enhanced the excellent traits of their own, by which the goal of fast-growing and high-yield forest will be achieved. During a fairly long period, these fine varieties made a great contribution to the career of Chinese Paulownia and a full step in the field of artificial plantation of Chinese paulownia. Artificial-crossing type Paulownia species researched in this period are called the old generation of artificial-crossing-type Paulownia.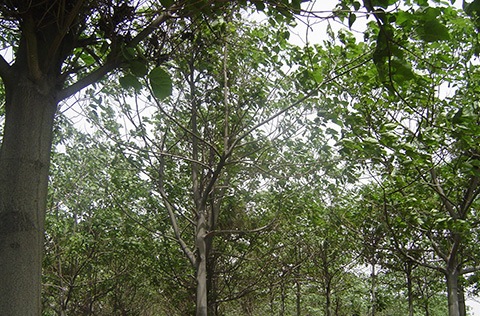 Filial generation of Paulownia could completely inherit the excellent genes of the former generation through asexual multiplication. However, these excellent genes will be lost as well after long-term and repeated reproduction. The old generation of artificial-crossing type paulownia has been applied repeatedly during the long-term of production, so there are too many excellent genes lost in this process.
Various resistances on insect, disease, drought, high-temperature, low-temperature and the growth rate are notably lessened. Serious retrogression expressed in the current production of Paulownia has not only increased the times and scale of artificial control and tending management on disease and insect which leading to higher production costs, but also caused prolonged cutting period, poor timber quality and low volume ratio. Thus, the old generations of artificial-crossing type Paulownia species are hard to adopt commercialized plantation.