Japanese newly designed 500 yen coin with paulownia flower pattern
Japan's Ministry of Finance announced (27th April) they will begin issuing newly redesigned ¥500 circulation type coins (U.S. $4.59) beginning from November. The Finance Ministry postponed the issuance of the new coins scheduled from April due to delayed updates with automated ticket and vending machines as well as automated teller machines amid the pandemic. The new ¥500 coins, now minted as bi-metallic pieces for general circulation are meant to further prevent counterfeiting and are the first re-designs in terms of a change in their metallic structure since 2000. The new coins do not differ greatly from the current design seen on the obverse or reverse.

First introduced into use in 1982, 500-yen coins were intended to replace banknotes of the same denomination. Minted in cupro-nickel, the coins feature a paulownia floral design on the obverse, while the reverse is designed with the denomination, bamboo, and Tachibana. The coin included incused lettering on the edge which read 500YEN alternating with JAPAN . With a weight of 7.2 grams and a diameter of 26.5 millimetres., these versions remained in use until 1999 when the Finance Ministry decided to change the coins' composition owing to frequent counterfeits found in ticket and vending machines. As the coins' face value and purchasing power make it one of the highest valued coins in use around the world, this resulted in 500-yen coins becoming a prime choice for counterfeiters. New version 500-yen coins were minted in 2000 with a composition of copper, zinc, and nickel, which resulted in a golden colour to distinguish them from the previous issue, their weight was also slightly reduced to seven grams. The new coins also displayed a diagonal reeding on the edge and included a latent image effect on the reverse side where the numeral 500 appeared.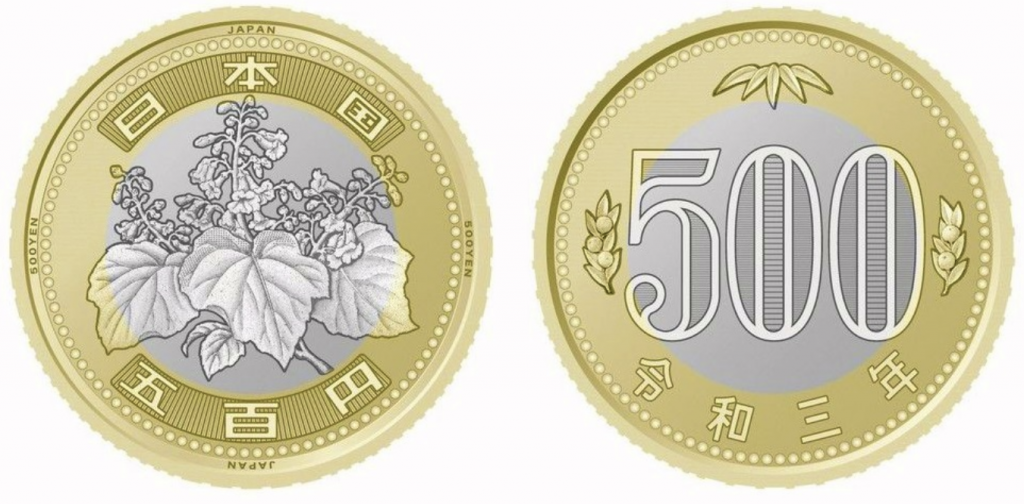 Since these are the highest value coins in circulation, this denomination is often issued by the Ministry of Finance for commemorative releases beginning in 1985. The first bi-metallic 500-yen coins were issued in 2008, which were part of the 47 Prefectures of Japan coin programme and issued over an eight-year timeframe. In 2019, the most recent bi-metallic commemorative 500-yen coins were issued on the occasion of the 30th anniversary of the accession of Emperor Akihito and a separate coin for the accession of Japan's new Emperor Naruhito. These were the first coins to be minted in line with the new security features now incorporated in the circulation type 500-yen coins.
The Finance Ministry, in collaboration with the Mint of Japan, are planning to produce around 200 million of the new coins in fiscal 2021. The MoF also announced the approximately five billion 500-yen coins currently in circulation will continue to be legal tender.
From: coinupdate