What is Paulownia elongata?
Paulownia elongata S.Y. Hu is a plant of the genus Paulownia of the Scrophulariaceae family. The tree is more than 10 meters high, the crown is broad and conical, and the whole has star-shaped hairs; the branchlets are brown with raised lenticels. The leaves are usually ovate heart-shaped, sometimes with irregular angles, up to 34 cm long. The side branches of the inflorescence branches are not developed, so the inflorescence is pyramidal or narrowly conical, about 30 cm long. The capsule is ovate, sparsely oval, 3.5-5 cm long, with a beak 4-5 mm long at the top, and 1-2.5 mm thick pericarp; the seeds and wings are about 4-5 mm long. Flowering period from April to May, fruit period in autumn.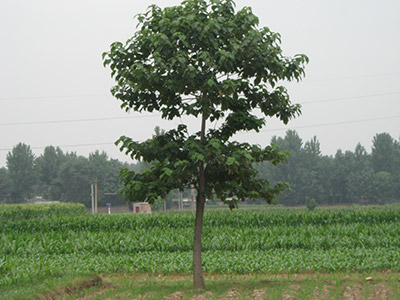 Paulownia elongata S.Y. Hu tree trunks are intermittently connected, that is, they tend to form elongated branches and connect upwards, so the crowns are often two-story, unlike the previous types, which are conical crowns. The leaf shape is ovate heart shape, the whole or sometimes the base is angular, the back is sessile branch-like hairs, and the upper surface is glabrous. The inflorescence branches are cone-shaped, most not exceeding 30 cm, calyx lobed 1/3-1/2, corolla 7-9 cm, lavender funnel-shaped, diameter 2 cm or more, eaves diameter 4 cm or more, densely distributed in the crown Purple fine spots. The fruit is oval-shaped, with a shell thickness of 1.5-2 mm. In North China, there are often few results, but the results in the Yangtze River Basin increase significantly.
Paulownia elongata S.Y. Hu is mainly distributed from the middle and lower reaches of the Yangtze River to the middle and lower reaches of the Yellow River in China. It is the fastest growing among several types of paulownia in northern China. It has been widely planted in China's Henan, Shandong, Hebei, Shaanxi, Hubei, Anhui, Jiangsu, Zhejiang and other provinces.