Striking art wall created with Raw Paulownia lining boards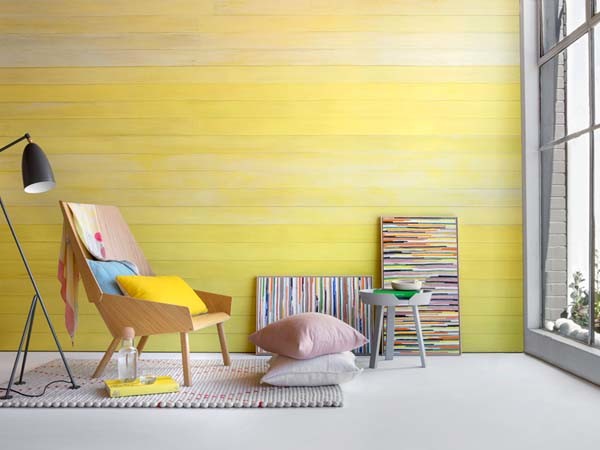 Raw Paulownia lining boards from Glosswood were used to create a beautiful art wall, taking inspiration from Rothko's art style.
Created using Glosswood's Raw Paulownia lining boards, the art wall was finished with Bauwerk Colour paint by a Perth-based visual artist who used yellow, white and Bauwerk base paints, mixing them and sanding the dry finish to create the beautiful graduations of colour.
Raw Paulownia is a highly versatile lining board that can be finished with paint, soap or any other coating, to transform into a beautiful surface. Closely resembling American ash in appearance, the timber is highly regarded for its grain as well as natural glossy surface, similar to spun silk.
A white wood with minimal knots, Paulownia timber is perfect for coating or staining to create natural wood colours and designer hues with a wonderful grain showthrough. The board is perfect for DIY enthusiasts who can design a bespoke solution for their spaces.
Pieces bringing the wall to life: Eveline Kotai artworks, Art Collective WA; Eugene chair, Muuto cushions, side table and carafe/glass, Living Edge; Scarf (on chair) by Elly Joel, Bell Jar Design; Cushions (on floor), Shanghai Shed; Gubi Grashoppa floorstanding lamp and Hay floor rug, Design Farm; woven basket (on sidetable), Remedy.