Paulownia species, environmental solution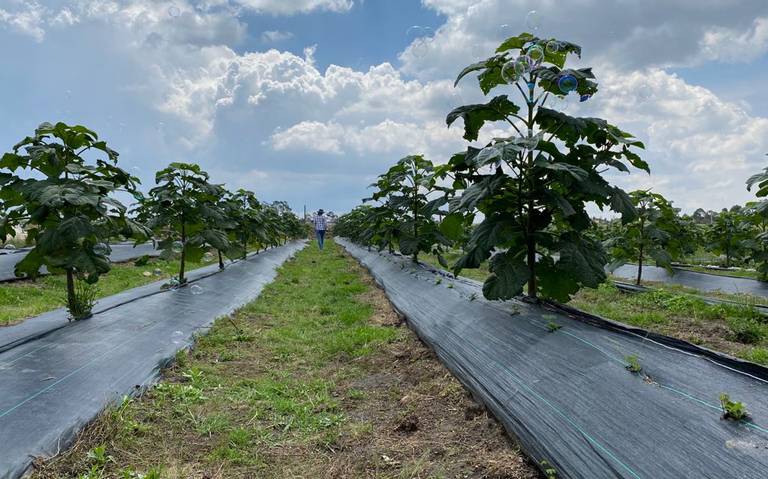 David Álvarez | Daily from Querétaro
The Paulownia tree stands out for its high wood production and is considered an environmental solution due to its ability to transform large volumes of carbon dioxide into oxygen, said Felipe Alcocer, founder of Materra Forestal, an organization in sustainable agroforestry management located in the municipality. by Amealco.
The agronomist, who is also an agronomist, said that this type of trees, which are native to Asia, mainly China, Japan, Vietnam and the surrounding areas, is considered the fastest growing tree with great resistance, which is why it has been used for the production of wood.
"You can have a pine from 20 to 25 years to have the right size and in the case of Paulownia it is less, between 7 and 10 years. Now, pine wood has a lower economic value than Paulownia, which is considered like semi-precious wood, "he said.
Felipe Alcocer commented that this tree has a yield of almost 3 centimeters per day and the production of wood has an accessible price, as well as its weight, which stands out for its lightness, ideal for packing air transport merchandise.
In addition, he argued that Paulownia could be helpful against global warming, pollution and desertification of the planet, since it adapts to a great variety of climates without affecting the local flora and has the ability to recover soil erosion due to to its deep root system.
"This plant has many characteristics in ecological matter: deep roots that tie well to the ground to avoid erosion and can be combined with others. It is easy to make associations, for example, with broad beans, nopales, strawberries, blackberries … all they can be in the same furrow as the trees and develop perfectly, "he added.
He pointed out that for this type of crops, the permission of the Ministry of Environment and Natural Resources (SEMARNAT) is required to guarantee that there will be no ecological affectation, although the type of tree they use cannot be multiplied by seed, since it requires special care for their reproduction.
He also commented that they are currently working with the Monterrey Institute of Technology and Higher Studies (ITESM) to obtain the adequate method of in vitro reproduction of trees, in which "we have produced more than 2,000 per tissue culture and we assembled our laboratory so as not to depend on its importation, "he concluded.
Sources: Daily from Querétaro